Melanie and Tim
We are a loving, devoted, Christian family who wants deeply to share our love and happy home with a little girl. (Birth -3) We have two boys (6 & 4) who can't wait to be "big brothers" to a baby sister. I, Melanie, was also adopted and had a wonderful life. This is something we wish to share with another child. Our home is filled with joy and happiness, as well as excellent morals, values, and a strong sense of God. Every Sunday is Family Day, and we spend this day together and with grandparents who love to spoil the kids.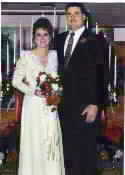 The Story of Us......
We met 20 years ago in high school and were reunited at Tim's 10 year reunion. From the first dance, we were best friends and soul mates. We have an undying love for each other and a wonderful friendship and marriage that is based on love, respect, honesty, and a strong belief in God. We knew before we married that we wanted to adopt a child and offer it the love we share. Tim enjoys building furniture and guitars as a hobby, and Melanie loves gardening, interior decorating, and reading. We both are musically talented and enjoy traveling. Our children are active in sports, music, scouts, and church.
Our Thoughts on Adoption
As an adopted child, I have great respect for any woman who has the strength and love to offer her child a chance at life. I grew up knowing I was adopted and "special" because I was "a gift from God" and a blessing. It was my birthmother who was the blessing. Because of her, I grew up in a family that was totally devoted and loving. As parents ourselves, we can only imagine the difficulty in this task you are facing. Choosing a stable home with a family that will love your child and honor your memory must be weighing heavy on your heart. We admire your strength, determination, and love for your child and promise these traits will be taught to her and will be a part of her forever. You will always be a part of her life.
Email Us or Contact Us 1-877-301-3757
Melanie and Tim
Learn More About Us Through A Link Adoption....at
A Link Adoption Network